Overview
Connect to your Computer, NAS drive, Time Capsule/Airport or Server
FileBrowser scans your Network for Machines allowing you to connect using SMB without the need for any additional software to be installed. Browsing the folders on your network is all done from the iPad, and is faster than browsing them on your actual machine.
Connect Using
WiFI, Cellular or iTunes Sync
Connects over WiFi at home, in the office or in a coffee shop. Also connects over cellular data network. Seamless integration with Apple's built-in secure VPN. Alternatively, connect via a cable to a Mac/PC running iTunes and sync your documents to FileBrowser, and later arrange them into folders on your iPad / iPhone's local file system.
PLEASE NOTE: You need to set up a VPN or SMB port-forwarding to connect from outside your network.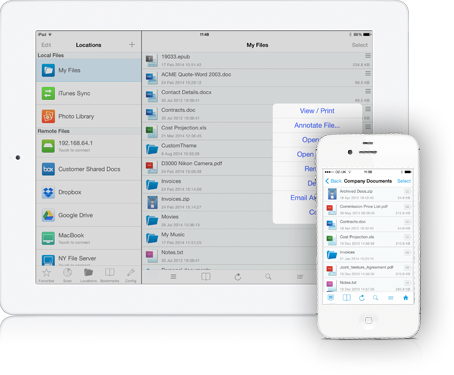 Browse your Network
Easily browse through your files and folders on your network.
Copy your files or folders to and from your iPad / iPhone to any remote computer. Keep files on your iPad / iPhone as long as you wish, and organise them in local folders as you choose.
If you have lots of files you can sort your files and folders by Date / Size / Type and Name. You can also search for files in a folder.
Email one or more files as attachments using the iPad / iPhone's built-in email app.
Connect to Box, SkyDrive or Dropbox
FileBrowser is now able to access Box, SkyDrive and Dropbox cloud file storage, and copy files to and from them seamlessly. FileBrowser also provides folder management, allowing folders to be created and deleted, and allows files to be moved from one folder to another without transferring them to the local device. It is also possible to stream video and audio from Dropbox and SkyDrive.
Stream Movies & Music
Stream your Videos or Music from your Media Library, Computer or NAS.
Movies and Audio files on your network can be streamed to FileBrowser over WiFi so you can enjoy your entire movie and music library without having to sync media to the iPad / iPhone with iTunes. All audio and video file formats supported by the iPad / iPhone may be streamed. For other file formats such as AVI and DivX, FileBrowser is able to stream to other video player apps such as GoodPlayer.
AirPlay™
Stream Video or Audio to AirPlay™ devices.
Stream your Video to AppleTV.
Stream your Audio to AirPlay™ enabled speakers from FileBrowser.
View your Photos from your Media Library, Computer or NAS on your AppleTV with iPad Mirroring*
*iPad Mirroring only Available on iPad2 and iPad3.
View Documents
View any document type supported by iOS, including
Text, PDF, Numbers, Pages, Keynote, RTF.
Microsoft Office files including: Word, Excel, Powerpoint.
Source code: C/C++, Objective C/C++, C#, Java, Javascript, XML, shell scripts, Perl, Ruby, Python, and more.
HTML and webarchive files.
Zip files can be extracted using FileBrowser.
View Images
View images without having to sync them to your iPad / iPhone. Directly access remote file shares, cloud file storage or the iOS Photo Library.
View as a slideshow or swipe to move to next/previous.
Save your images into your iPad / iPhone's camera roll.
View all image formats supported by iOS, including: JPG, BMP, GIF, PNG, TIF, TGA, NEF, RAW.
Upload photos to remote file shares or cloud file storage.
Collaborate with Other Apps
FileBrowser supports the iOS "Open In" feature so you can pass your documents and files to other apps for editing or handling.
For examples of how "Open In" can work for you click here.
Edit your documents with Pages, Numbers, Keynote, DocsToGo or QuickOffice. Annotate your PDFs with GoodReader. When finished, pass the document back to FileBrowser for local or remote storage.
Corporate Use
FileBrowser contains some great features for corporate use, including.
No additional software needed.
Active Directory authentication.
Secure credential storage.
Automatic encryption of local files.
Administrative lock on settings
Custom versions of FileBrowser can be tailored to your needs through theming, styling, and special features.