Introducing Custom Tasks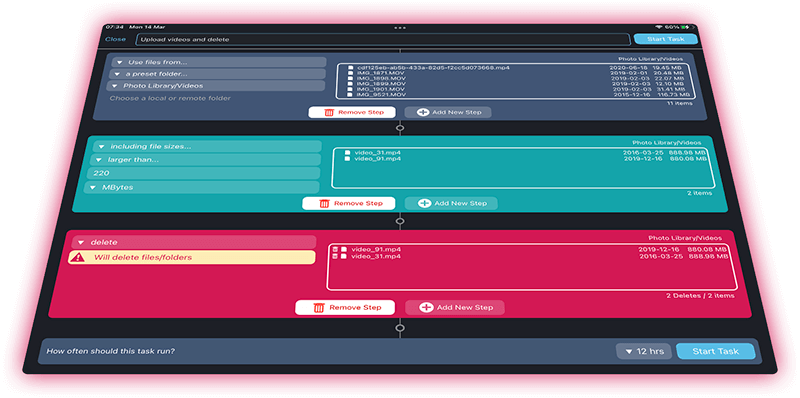 Create Automated File Tasks from your iPad
Custom Tasks are for iOS power users. Build simple or complex file commands and run them on any folder on your servers or in the cloud. FileBrowserGO's step by step Custom Task builder which provides you with the building blocks to create your own file based workflows.
How do FileBrowserGO's Custom Tasks work?
Custom Tasks can be as simple as create and schedule Backup Tasks to multiple locations, see an example of that here, or a more complex Custom Task such as monitoring a specific folder for pdf documents that include the word "invoice" in the filename. Then copy any new pdfs that appear in that folder to your iPad every hour, see example.
See how FileBrowserGO's Custom Tasks could speed up your workflow, see our series of step by step tutorials showing you how to harness the power of Custom Tasks.
We can't wait to see what workflows you create with Custom Tasks.

Select Folder


Filter ONLY pdf's


Rename, add the created by date to the filename
Example: Filename-12-12-2019. You can customize the date format.


Copy to GDrive


Copy to Mac


Schedule Run this Task automatically every 12 hrs