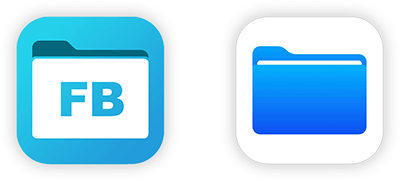 FileBrowserGO and the iOS Files app
Your iPad or iPhone already comes with the Files app. Here's why FileBrowser is a great compliment and replacement for the Files app.

What does the Files app connect to?
One of the main differences between FileBrowserGO and the Files app is that any cloud storage you want access to in the Files app has to be installed as separate apps. So if you want GoogleDrive and Dropbox then you need to install their apps to make them available in the Files app. FileBrowserGO doesn't require these additional apps to be installed and comes with a library of connections to get you started.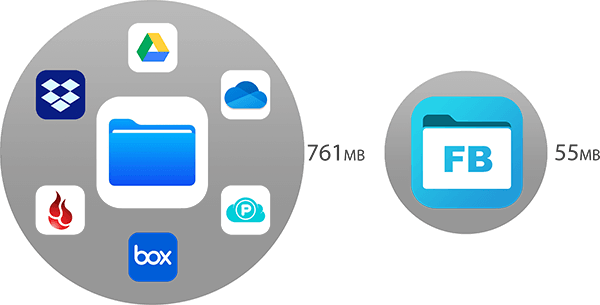 761MB VS 55MB Install
Installing all these additional cloud storage apps can eat up valuable storage space on your iPad or iPhone. For example installing the following apps GoogleDrive, Box, Dropbox, OneDrive, pCloud and Backblaze takes up 761mb of space. FileBrowserGO connects to all of the above and also to FTP / FTPS / SFTP, WebDAV, Amazon S3 and Backblaze B2. It even allows you to copy files between your iOS devices. With an install size of 55MB saving you over 700mb of space on your device.
And what's even better is you can use the advanced views of FileBrowser or even use the files app to open your FileBrowser locations.