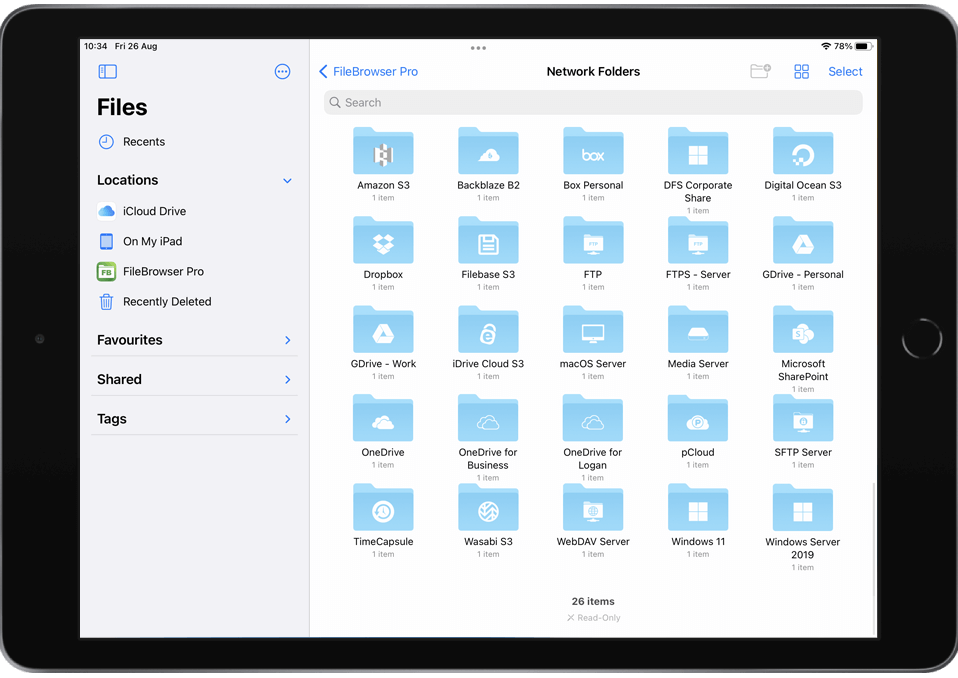 What does the Files App connect to on its own?
The iOS Files App can connect to modern Macs or PCs using SMB2 or SMB3. Older SMB devices, such as Apple's Time Capsule are not supported. It can also use plug-ins from third-party apps to connect to storage such as Google Drive and Dropbox.
Enhance the Files App with Filebrowser
FileBrowser comes with a library of over 20 different connections to get you started depending on which version you have. Any connection configured in FileBrowser can be accessed via the iOS Files App.
Save Space
Installing all these additional cloud storage apps can eat up valuable storage space on your iPad or iPhone. For example installing the following apps Google Drive, Box, Dropbox, OneDrive, pCloud and Backblaze takes up 761mb of space. FileBrowserGO connects to all of the above and many more.
To use our Files App integration just open the Files App, tap on your version of "FileBrowser" and all your FileBrowser connections will be listed under "Network Folders".
FileBrowser is much more Powerful than the Files App
The iOS Files App provides basic folder browsing, but FileBrowser offers much more in terms of user experience and useful features. FileBrowser has been on the AppStore since 2010 with constant updates and improvements. We have highlighted some of its great features below.