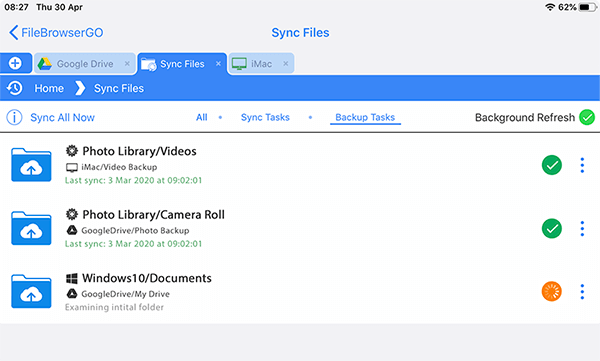 Keeping a backup of your documents or files is important even on your iPad or iPhone, we show you how to create backup tasks for your iPad.
Automatically backup your documents on your iPad or iPhone, with Backup Tasks. Simply select a folder on your iPad or iPhone and create a Backup Task and tell it where you want your backup to go on your computer, a server or even one of your cloud storage accounts.
Create a Backup Task and backup your iPhone Photo Library, or choose specific folders such as Favourites or Camera Roll. See our guide on how to do that here.
How to Backup your Camera roll
Backup iPad folders to multiple locations
Create multiple Backups of your documents for increased protection. Backup your iPad documents to your windows computer and create a secondary backup to Google Drive for example.
---
Further protect your Mac or PC using Backblaze Personal Backup.