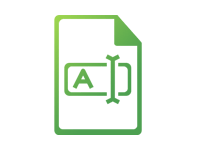 The Best Bulk Rename Tools on iPad/iPhone
Batch rename on iOS like you do on macOS
Finally a way to batch rename photos using your iPad or iPhone. With the powerful bulk rename tools in FileBrowser Professional, batch renaming is a breeze no matter where those files are stored on computers, portable WiFi Drives, SD cards or even in the cloud.
Simply select a few photos in FileBrowser Professional and then tap the menu button. Select "Rename Files" and the bulk rename dialog will appear.
Please note: You cannot rename photos in the Camera Roll as this is an Apple restriction.
Find and Replace
One staple tool missing in iOS Files app is "Find and Replace". With FileBrowser Professional you can Select files and find and replace text in your filenames in bulk, saving you hours of toil.
Once you have selected your photos, use a find and replace on their file names such as changing all "IMG_" to "DSC_" for example. See our simple find and replace guide.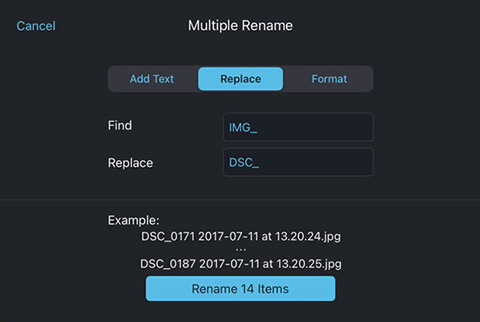 Name and Date
Batch rename files with custom date formats like a pro on iPad/iPhone.
Insert the date and time before or after your photo name. You can also customise the date format in a variety of ways.
Use the following Codes in the Custom Format field to generate your file names:
DD - Day
MM - Month
YY - 2 Digit Year
YYYY - 4 Digit Year
HH - Hours
MN - Minutes
SS - Seconds
FN - Original File Name
You can see a preview of the filenames in the dialog under "Example"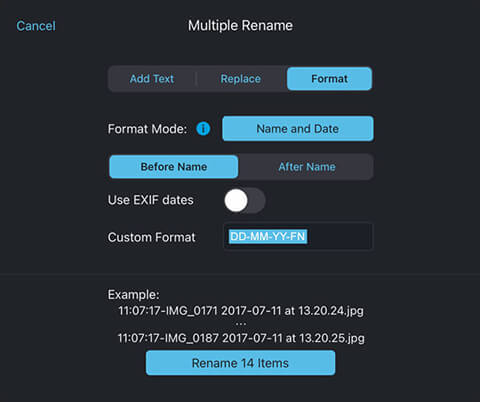 Exif Data
Rename your photos using specific Exif data such as your camera Model, the Focal Length or Exposure Time of the photo. Simply tap the selectors or type the following codes to in the Format field to generate your file names:
OriginalName
Description
Comment
Make
Model
Software
FNumber
FocalLength
ExposureTime
ISO
ColorSpace
ExposureProgram
MeteringMode
and the Date Codes from above.
Only available in FileBrowserGO and FileBrowser Professional
See our simple EXIF renaming guide.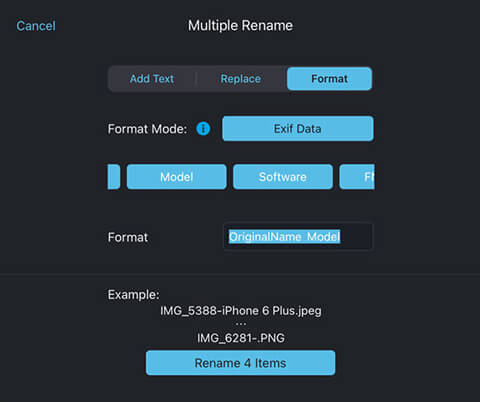 Setup Automated Rename Tasks
Our Custom Task feature can be used to automate renaming files & folders, and to periodically schedule rename tasks. More rename features are also available, such as changing names to lower or upper case.
See here for more details on FileBrowser's Custom Tasks.
Only available in FileBrowserGO and FileBrowser Professional