Create a Playlist
Tap the 'Create Playlist' button under the play controls.
Adding tracks to a Playlist
Add a Song or Album to a playlist by tapping the context menu icon and choosing the playlist you wish to add them to.
Edit a Playlist
Tap the Playlist context menu icon and choose 'Edit'. Now you can:
Re-order your tracks by using the drag controls.
Remove unwanted tracks by tapping the delete icon.
Once you have finished editing your playlist, tap 'Done Editing'.

Import a Playlist
You can import a single playlist from iTunes by simply:
Select your Playlist in iTunes
Select File -> Library -> Export Playlist
Then save this .m3u file, which is a list of your playlist songs and their location.
eMail the .m3u file to your iPad.
Simply tap and hold the .m3u attachment and choose "Share" then "Copy to MusicStreamer".

If you can't see "Copy to MusicStreamer" in the list tap the "More" icon on the right. Then scroll till you find "Copy to MusicStreamer".
MusicStreamer will then launch and ask if you want to Import the Playlist, confirm this and your Playlist will appear.

Export your playlists to use in iTunes
You can also create your playlists in MusicStreamer and export them to use in iTunes.
In MusicStreamer press the playlist menu and select "Export for Mac" or "Export for PC".
Choose an app to pass it to, such as FileBrowser.
In iTunes Import your new playlist file:

File -> Library -> Import Playlist
Select your file and continue.
Filter by Genre
Use the Filter dropdown to filter your Music to Blues, Rock, Classical or Grunge music. You can then also search those results.
Search
Easily search your music. You can even choose to search by either Track, Album, Artist or File name.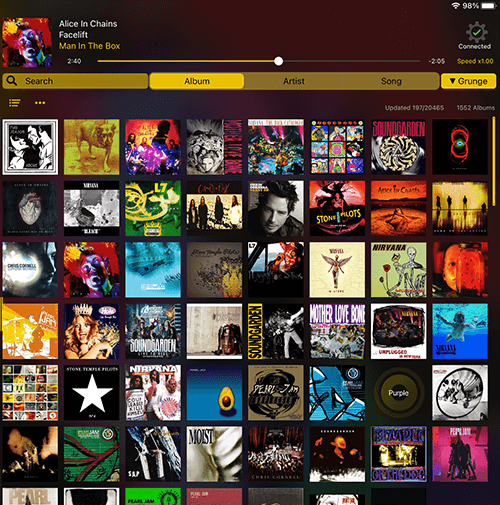 Standard
Play the Play Queue.

Repeat
Repeat the entire Play Queue.

Repeat Track
Repeat the current track.
Random
Once a track has finished playing a new random track is added to the Play Queue.
Offline Playback
Download Albums or Songs
You can download your music to play offline. Simply tap the context menu on either the track or the album and select "Download for Offline Playback".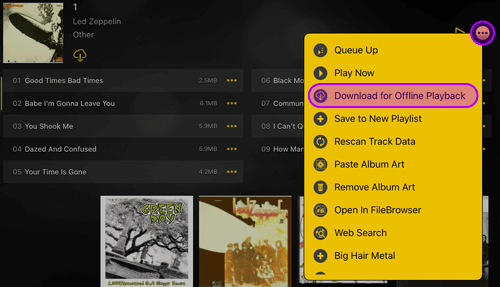 Download Playlists
To download an entire playlist, simply tap the context menu on your playlist and select "Download for Offline Playback".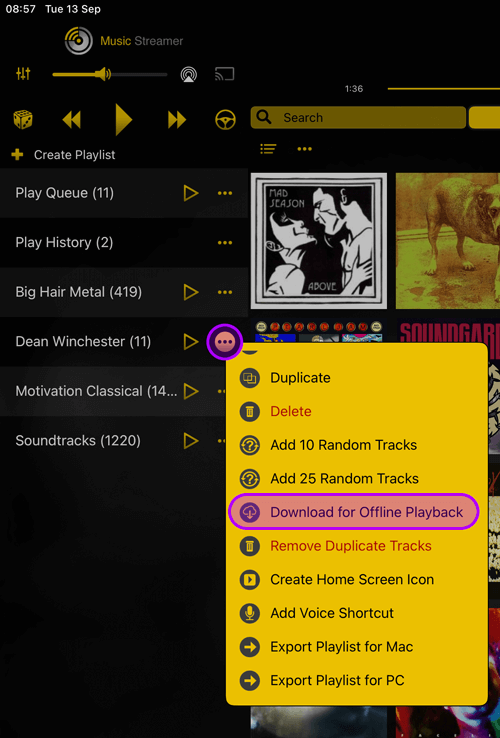 Download Searched Music
You can also download from your search results, simply perform a search then tap the context menu and select either just the tracks or the albums then select "Download for Offline Playback".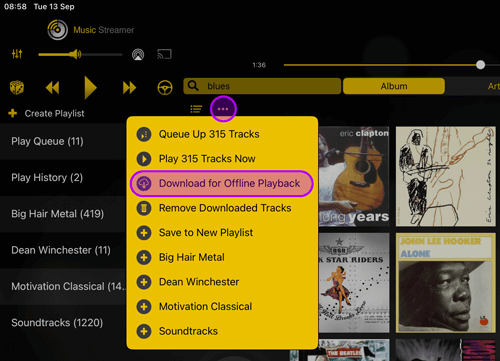 Fast Scroller
If you tap and hold the scroll bar, a letter will appear allowing you to quickly scroll to artists of albums.

Car Display Mode
Tap the CarMode icon to switch to CarMode.

Locate Album
Find the album for any play list track by choosing 'Locate Album' from the play list menu.

AirPlay
Simply tap the AirPlay icon next to the Volume control and select your AIrPlay enabled device.

Amazon Echo
Listen to MusicStreamer through your Amazon Echo.
Stream to your Amazon Echo

Chromecast
The Chromecast icon will light up white when a Chromecast is available. Tap it to select your device.
Stream to Multiple Chromecasts